(Guest Post by Matthew Ladner)
C'mon Yolanda- what is Fonzie like?!?
Cool?
Correcto-mundo! And that's what we're gonna be, we're gonna be cool. Now Ringo, I'm gonna count to three, and when I do, I want you to let go of your gun, lay your palms flat on the table, and then tell me what happened in college football this weekend. But when you do it, do it cool. Ready?
What?
Say what again! I dare you! I spent the weekend detailing a car with a toothbrush, I missed all the college football games and I am NOT IN THE MOOD. One, two, THREE!!!
Alright mate (puts gun down)
Good- now tell me what happened.
So…it breaks down like this- Florida State beat Notre Dame on a controversial late call, but it probably doesn't matter 'cause the selection committee is going to recognize the fact that the Irish outplayed the Seminoles on their home field. So if the Irish win out, I think they will still make the playoff. IF they do, they might get the chance to play FSU on a neutral field.
I would like to see that! Go on….
Oklahoma got beat by Kansas State, so that's their second loss and they are out unless things go 2007 levels of weird. Baylor also had their first loss at West Virginia, and they looked bloody sloppy doing it.
Would you say that they are eliminated Ringo?
No I would not say they are eliminated, but they had better get their act figured out quick because TCU and Kansas State will be competing with them for a Big 12 birth, if there is going to be a Big 12 birth. TCU looked really strong beating up on Oklahoma State.
Too bad they blew that huge lead last week. What about the Big 10?
Michigan State, Nebraska and Ohio State all beat middling conference opponents, but that will all sort itself out eventually. They all have lost a game already so no guarantees.
How about the West?
Oregon, Utah and Arizona State are still in the running after victories this weekend. Arizona was off this week but also has only one loss.
What else happened this weekend? Anyone send a message? I mean besides Florida State?
Alabama sent one loud and clear by beating Texas A&M 59-0.
59 to nothing? Just a couple of years ago they were selling t-shirts claiming that A&M was like the moon 'cause they 'control the Tide.' Well well well- a'int nobody gonna shepherd them through the valley of SEC West darkness!
They've been blown out three weeks in a row…
THREE.WEEKS.IN.A.ROW! That is just inspiring. Now…reach in the bag and hand me my wallet.
How will I know which one it is?
You'll know it when you see it.
(Finds wallet)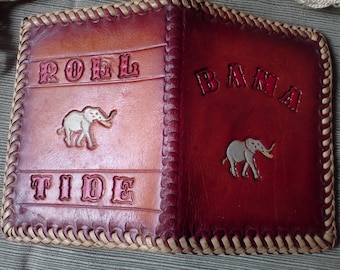 Now this is the situation. Normally both of you would be dead as fried chicken. But you happened to pull this while I'm in a transitional period. I don't wanna kill ya, I want to help ya.  What's in my wallet Ringo?
Don't you mean 'what's in your wallet' mate?
Don't get cute Ringo- open the wallet!
(Opens wallet)
Two tickets to the college football national championship game in ATT stadium?!?
Correct. Put them in your pocket Ringo-they are yours. Now with the rest of them wallets and the register, that makes this a pretty successful little score. I ain't just givin' it to you. I'm buyin' somethin' with those tickets. Wanna know what I'm buyin' Ringo?
What?
I TOLD you NOT to say that!!!!
Sorry!
Your life Ringo. I'm givin' you those tickets so I don't have to kill you. You read the Bible?
Not regularly.
There's a passage I got memorized….nevermind, it's not a real verse anyway. Take the tickets and get out of here before I change my mind. I'm almost certain that the Tide will be rolling into Jerry-world so you'd best get out of here before I snap out of it.