(Guest Post by Matthew Ladner)
The Arizona Chamber of Commerce and Industry held an awards breakfast last Friday, where they recognized a number of worthy recipients including friends serving in the legislature like Senator Debbie Lesko and Senator Steve Pierce and Representative Paul Boyer.  They also however chose to recognize a rather dubious character with whom you will be all too familiar by bestowing upon him the Milton Friedman Award, Obviously I was deeply touched to receive an award named after one of my heroes.
At the request of the Chamber, I prepared the following remarks:
I am deeply touched to receive this honor, but I must say that I feel a bit like Jack Ryan. You may recall the scene in the Hunt for Red October when Ryan exclaims "Me?!? I'm just an analyst!"
While I am deeply appreciative of the award, it is I should honor you. The groundwork for what I am about to describe was already in place when I arrived in Arizona in 2003. You as long-time business and civic leaders in Arizona should take great pride in what I will relate.
It was recently reported that Arizona ranks number two in job growth. I am happy to relate to you that Arizona ranks number one in K-12 academic gains.  The National Assessment of Educational Progress gives academic exams to 4th and 8th graders in all 50 states every two years. When you follow the academic progress of 4th graders in 2011 to when they became 8th graders in 2015, you find that Arizona students made more progress than any other state. Given everything this state endured during the Great Recession, this is a remarkable tribute to the resiliency of our students, educators and policymakers.
This progress is across the board and includes both district and charter schools. In addition our charter school students did something truly extraordinary. On the same 2015 National Assessment of Educational Progress, Arizona's charter school students scored comparably to the highest performing states like Massachusetts and New Hampshire. This is all the more impressive when you consider that Arizona charter schools are funded far more modestly, and have student bodies far more diverse, than the schools in New England.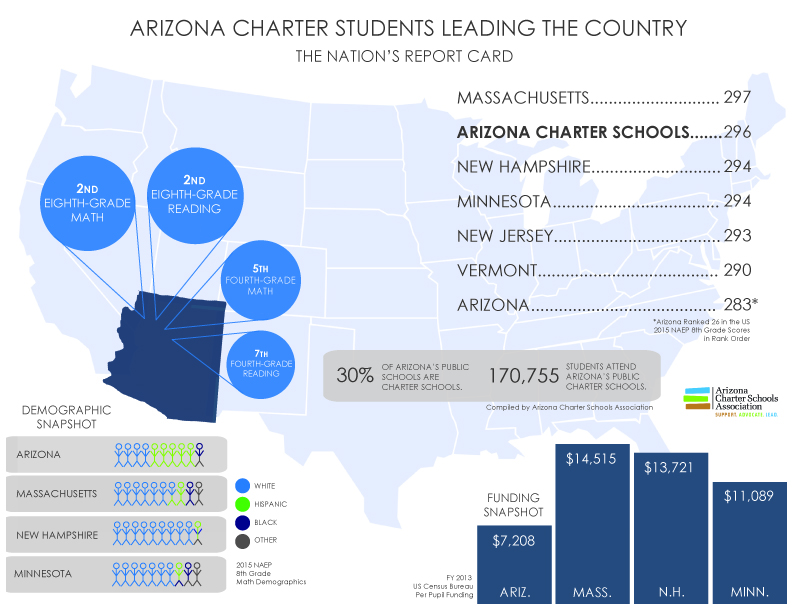 These results are remarkable. How did this happen? What is the secret sauce? There is no single explanation and there are many ingredients in the Arizona K-12 reform gumbo. You made the mistake however of giving me an award named after the great Milton Friedman and then the even larger mistake of giving me the microphone, so I am going to talk about parental choice. It seems clear to me that parental choice has been a major contributor to Arizona's improvement.
Parental choice is controversial. Some people believe that parental choice is about some schools being "good" while others are "bad." Those who believe this however are mistaken. Parental choice is about the fact that every single child deserves to have access to a school that is a good fit for them. Good fits between students and schools are very powerful, and we cannot replace it with any other source of improvement.  Without giving parents the ability to match the needs and interests of their child with the particular strengths of a school, the public education system will never reach full potential.
During the campaign, Governor Ducey quite rightly placed an emphasis on Arizona students sitting on wait lists at our high demand district and charter schools of choice. These students only have one shot at their K-12 education, but they find themselves stranded by the inadequacies of our policies, waiting for the opportunity to attend their good fit school. Meanwhile the sand continues to run through their hourglass. 
Our challenge includes this, but it is also more than this.
Tens of thousands of Arizona students sit on wait lists, but hundreds of thousands of Arizona parents never even considered some of our highest performing district and/or private schools. These schools may have been great fits for the needs of their children, but they didn't even cross the radar screens of these parents for consideration. Why not? Because they have effectively been priced out of consideration. Parents either cannot afford the high price of real estate for the district schools, or else cannot afford to pay tuition in addition to their taxes. Many sadly see these schools as being for someone else, but not for them. It doesn't however have to remain this way. We have it in our power to make our educational opportunities more inclusive. The blessings of liberty should not remain the privilege of the few, but rather the birthright of all.
I fell in love with Arizona because of our innovative spirit and I believe that we have been richly rewarded for it. If Dr. Friedman were still with us, I believe he would be proud of what we have done, and would encourage us to do more. Arizona is a state with big horizons, where the sky is the limit. May we always remain so.
I genuinely am deeply appreciative of both the award, and the opportunity to work with great people on these issues in Arizona.